Port Huron High School
Class of 1967 - 50th Celebration

50TH REUNION - CLASS OF 67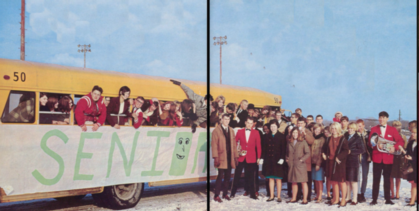 REUNION WEEKEND ACTIVITIES
FRIDAY, AUGUST 18
HURON LADY RIVER CRUISE
Friday, August 18 | 3:00 PM | Tickets $21 (Seniors) | 207 Water Street
Approximately 50 seats still available. Book yours today!***
Enjoy cruising the St. Clair River and beautiful Lake Huron with your classmates on this 1-1/2 hour narrated, public cruise. Tickets are limited. Purchase tickets directly at www.huronlady.com.
MIX, MINGLE, DRINK & EAT PIZZA
Friday, August 18 | 7:30 PM | FREE | Casey's Pizzas & Subs | 628 Huron Ave.
Join everyone to say hello. Full menu available. Dining, drinks, and lots of FUN!
SATURDAY, AUGUST 19
TRIBUTE TO VETERANS
Saturday, August 19 | 9:00 AM | FREE | Veterans Memorial Statue| Pine Grove Park
CANCELLED - CINDY JO'S GOLF-A-RAMA
Saturday, August 19 | 10:00 AM | Golf fees paid to MGC | Marysville Golf Course
BLUE WATER TROLLEY TOUR
Saturday, August 19 | 2:00 PM | 10 CENTS
Cruising Port Huron 21st Century Style
PHHS CLASS OF 1967 - 50th REUNION DINNER
Saturday Evening, August 19 | 7:00 PM | Blue Water Convention Center
Discount Tickets $45 may be purchased by paypal at
PayPal.me/PHHSclassof67
Or by mailing your check directly to:
Susan DeMaggio
9 Schubert Court
Irvine, CA 92617
Before the early registration deadline, July 19, 2017 no checks after this date!
Tickets purchased after July 19, via PayPal or via credit card are $50 each
Reception, Dinner Buffet, Program, Tributes, The Voo Doo Doctors
Make your dinner reservations NOW! Last date to reserve is August 4!
Just click on the 50th Dinner Registration Tab at the top of the page.
SUNDAY, AUGUST 20
"Bon Voyage" Brunch
Sunday Morning, August 20 | 11:00 AM | $21
Rix's Rooftop (Formerly Fogcutter Restaurant) 511 Fort Street Port Huron
The Float Down will take place on the river for those brave souls who are interested
*Please click on the tabs in the left-hand column for more information on the activities listed above
STAY TUNED
Keep an eye on your email and Facebook. We'll be posting announcements regularly as updates and information for activities become available.
*WE NEED YOUR HELP. Go to Missing Classmates at left and personally contact anyone you know. Also, if you have any information about a classmate, (married name, last address, local relatives, etc.) use the Contact Us tab at the top and we will try to locate them.
ANNOUNCEMENTS
Please be certain to include the details of your and/or your spouse's military service when you create or edit your personal profile. We will be honoring each of you during the Veterans Tribute on Saturday morning and we want to be sure that we include everyone.
Did you know that the PHHS Class of 1967 had more military members serve our country than any other high school in St. Clair County? Those numbers do not include the spouses who graduated from other high schools.
We have planned a special recognition for all veterans who attend the ceremony. We look forward to seeing you all there.
Classmates! Post your graduation photo if you would like us to use it on your name badge! Otherwise we will use the yearbook photo! Not a threat, at least some of them are good photos! Just sayin'😉